For purification from several milligrams to 10 grams on laboratory scale
LC-Forte/R-II is useful for laboratory scale preparative purifications with HPLC columns, glass columns and flash chromatography columns. It is applicable for various modes such as reversed-phase, normal-phase, chiral and GPC.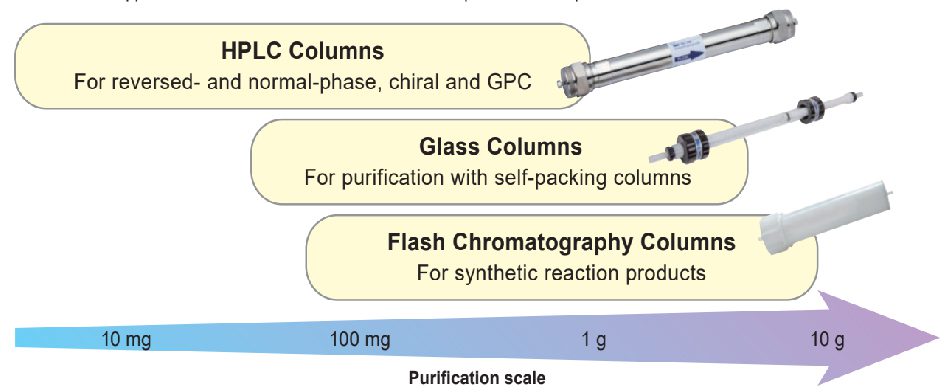 Increasing separation efficiency by recycling
Under recycling chromatographic separation, higher resolution can be achieved on a sample that is hardly separated, because the sample is repeatedly introduced into the column. Desired purity can be achieved without changing mobile phase conditions or columns. The unique flow path for the recycling system reduces the extra-column diffusion and achieves high efficiency preparative separation. Furthermore, no solvent is consumed under recycling.
Selectable detectors
YUV-3400
YRI-8830
UV
RI
Wavelength
200-400 nm (3 Variable wavelengths)
-
Source of light
D2 lamp
LED
Sensitivity/noise
1.3 x 10-4 AU
1.4 x 10-6 RIU
Drift
3.0 x 10-3 AU/h
7.9 x 10-6 RIU/h
Flow cell
-
8 µL
Saturated concentration
-
4 x 10-3 RIU以上
Measuring method
Single-beam transmissive-type
Deflection
RI range
-
1.00-1.75
Purge process
-
Automatic
Optional fraction collector
| | Forte/FR |
| --- | --- |
| Fraction method | Replay, manual, peak (controlled by interlinked PC) |
| Number of fraction | Max. 65 fractions (standard rack: 21 fractions) |
| Rack size | φ18 x 65, φ40 x 21 (standard), φ105 x 6, customizable for other size |
| Dimension | 300 (W) x 500 (D) x 300 (H) mm |
| Power supply | AC100-240 V |
| Weight | 15 kg |
Optional buffer rack
| | Forte/RK |
| --- | --- |
| Column holder | Installed as standard |
| Dimension | 400 (W) x 500 (D) x 420 (H) mm |
| Weight | 8 kg |