Excellent peak shape on basic compounds
Basic compounds were separated using YMC Meteoric Core C18 and Core-Shell type sub-2 μm from competitors. YMC Meteoric Core C18 shows better peak shape and higher resolution compared to competitors.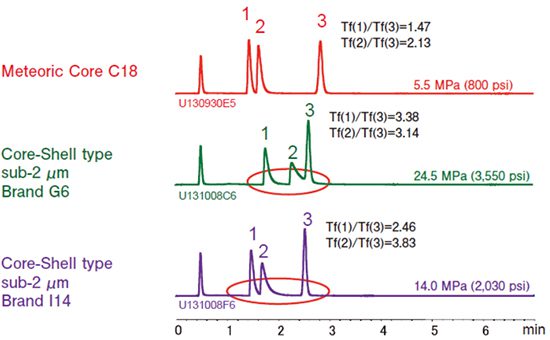 Column
50 X 2.1 mmI.D.
Eluent
20 mM KH2PO4-K2HPO4 (pH 6.9)/acetonitrile (65/35)
Flow rate
0.2 mL/min
Temperature
40°C
Detection
UV at 235 nm
Sample
1. Chlorpheniramine
2. Dextromethorphan
3. Propyl p-hydroxybenzoate (I.S.)
Ultra fast analysis and excellent resolution
While maintaining the theoretical plate number, Meteoric Core C18 can shorten the analysis time by two-thirds compared to the conventional fully porous C18 column with the same column dimension and under the same analysis condition. Moreover, the resolution can be maintained even when analysis time is further reduced to one-third.
Methyl p-hydroxybenzoate
Ethyl p-hydroxybenzoate
Isopropyl p-hydroxybenzoate
Propyl p-hydroxybenzoate
Isobutyl p-hydroxybenzoate
Butyl p-hydroxybenzoate
| | |
| --- | --- |
| Column | 150 X 3.0 mmI.D. |
| Eluent | acetonitrile/water (50/50) |
| Temperature | 30°C |
| Detection | UV at 270 nm |