Separation of basic compounds
Separation of basic compounds such as alkaloids with good peak shape is achieved with Pro C8 and Pro C4 due to their effective endcapping.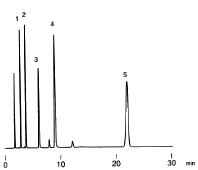 Scoporamine bromide
Atropine sulfate
Cinchonin
Quinine
Papaverine chloride
Column
YMC-Pack Pro C8 (5µm, 120Å)
150 x 4.6mmI.D.
Eluent
acetonitrile/20mM KH2PO4 (20/80)
Flow rate
1.0 mL/min
Temperature
30ºC
Detection
UV at 210 nm
Short time analysis
Pro C8 and Pro C4 can be used to shorten total analysis time while maintaining the peak shape for caffeine, ethenzamide and bromovalerylurea.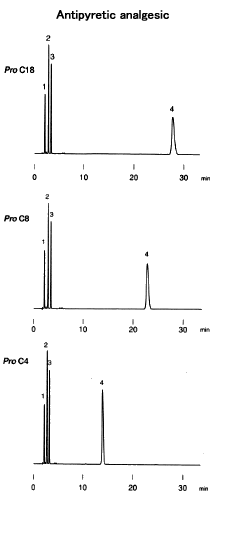 Caffeine
Ethenzamide
Bromovalerylurea
Ibuprofen
Column
150 x 4.6mmI.D.
Eluent
methanol/20mM H3PO4
(60/40)
Flow rate
1.0 mL/min
Temperature
37ºC
Detection
UV at 254 nm